Going deeper with CoroDrill
CoroDrill® DS20 with a 4-7xD drill range took Sandvik Coromant seven years to develop but it was well worth the wait, as successful trials at SKF proved.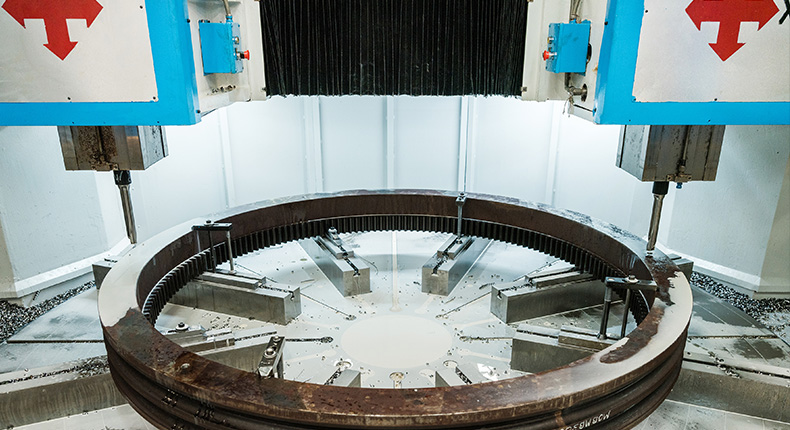 In October 2019, CoroDrill DS20 was launched. It is the first indexable insert drill on the market with a depth capacity of 7xD (seven times the diameter) and ranges all the way down to 4xD. In terms of diameter, the assortment starts at 15 mm up to 65 mm.
Considerable time and knowledge were invested in the new drill family, which is set to become the benchmark of indexable insert drilling in general, and with specific emphasis on deeper holes. With the extended depth capacity as compared to the market standard of 5xD, the drill enables industrial customers to make significant time and money savings.
The drill has already made a difference at SKF's Monterrey, Mexico plant where it underwent successful trials prior to its launch.
Trials with SKF
SKF has operations in more than 130 countries and the Monterrey plant specializes mainly in manufacturing bearings and slewing rings for industrial and heavy equipment, such as wind power generation. The bearing and seal manufacturing company already had a successful track record with Sandvik Coromant and was eager to participate in the trials.
SKF was in need of a solution to reduce costs while maintaining productivity at equal levels, keeping up with the demand of a wind turbine bearing with a diameter of three meters. Although the parts were produced using special custom-made 6xD drills, the tool length made the process unstable, and production was frequently interrupted by broken inserts. There was also the uncertainty of never knowing how long the inserts were going to last, slow drilling rates and continual halts to prevent damage to the tool, the machine or the workpiece.
The economic aspects were another concern. "We're talking about very expensive parts because of their size," says the plant's engineering manager, Valdemar Garza. "We had to monitor the tool very carefully to prevent it or the workpiece from suffering any damage. So we were looking for more efficient, faster options that could give us the best cost per part."
Production up
In May 2019, SKF received 10 drill bodies, 300 center inserts and 300 peripheral inserts for a long-term field test. Since then, CoroDrill DS20 7xD has had a significant impact on SKF's business in Mexico, resulting in its highest production capacity since the company started using Sandvik Coromant drills. "This tool is giving us the opportunity to increase our cutting speed and reduce the cycle time to half the previous time," says Garza.
In addition, Garza highlights the company's new ability to schedule machine maintenance and cover operator vacations without having to use overtime. "This drill gave us flexibility to use the resources in different ways without having to depend on the product's output or having the machine operating non-stop," he says.