New solution boosts metalworking efficiency
Manufacturing companies such as Harsha Engineers are able to work more productively and cost efficiently with the help of the digital solution CoroPlus® Process Control from Sandvik Coromant.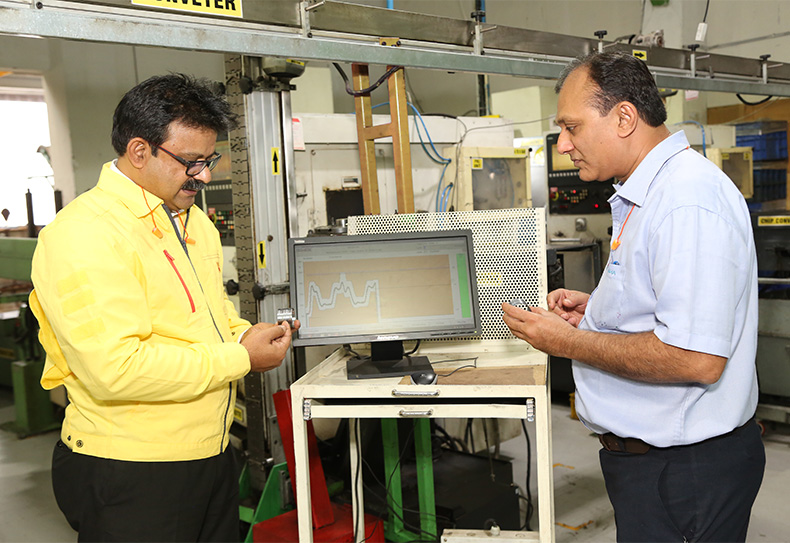 Headquartered in India, Harsha Engineers Limited (Harsha) manufactures precision bearing cages in brass, steel and polyamide injection molding for major bearing manufacturers globally. Harsha also manufactures stamped components for the automotive industry and other sectors.
Metalworking is an integral part of Harsha's manufacturing process and it includes turning and parting processes in the machining of bearing cages. The company was experiencing tool damage in the parting process and it also needed to reduce the cycle time in the turning process in order to meet an increase in product demand.
Real time monitoring
Harsha approached its long-time partner, Sandvik Coromant, for advice. As experts in tools and machining solutions for the metalworking industry, the Sandvik team was able to propose a suitable new insert and present CoroPlus ProcessControl, a solution for real time tool monitoring. It automates, collects and aggregates process data, enabling prediction of when to perform maintenance, which leads to a reduction in unplanned machine downtime and a reduced total cost of ownership. The system also increases the overall stability and security in a machining workshop by detecting tool force overload and correcting it to optimize cutting tool life.
Harsha had to stop production for just a few hours in order to install and test the new digital monitoring system. By the end of the trial, which lasted several months, the customer was convinced of its effectiveness, especially with the ability to machine two pieces at a time instead of one.
Benefits weigh in
"After installing the digital solution we have achieved our desired results," says Himanshu Parekh, senior engineer. "There was a reduction in cycle time by 43 percent, a reduction of part rejection, reduced inventory costs, a reduced need for human intervention due to automation, help with quality improvement, and zero parting tool breakage incidents, which helps to reduce tooling cost."
Best of all, says Parekh is that Sandvik's monitoring system helps to identify new areas for improvement and it is very user friendly. "CoroPlus as an online tool monitoring system gives us confidence in the safety of our tools and people, and it helps to optimize the process parameters," he says.
Parekh is grateful to his own management for giving the green light to use CoroPlus ProcessControl and pleased that Sandvik successfully met the challenge. "The Sandvik team is always ready to support with extra efforts and new, advanced technology ahead of other suppliers, which helps us to make new benchmarks for cycle time."