Productivity and safety improve with AutoMine
Our equipment automation system AutoMine® enabled a Canadian mine to mitigate mud rush hazards and improve productivity – and it paid for itself in less than two months.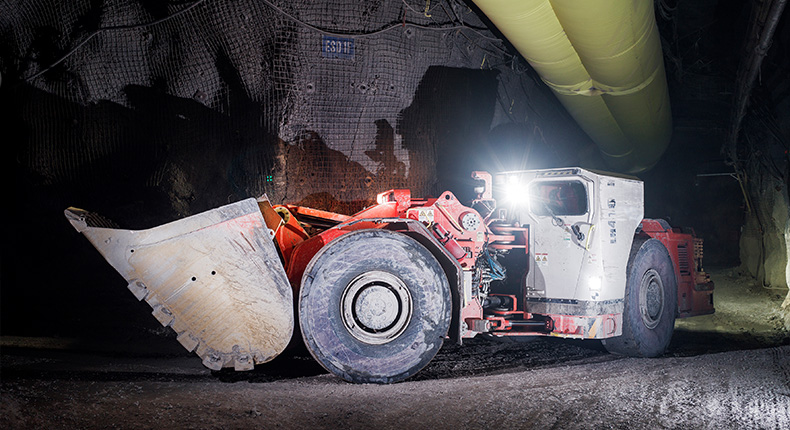 Tonnage is closely linked to profitability at mining company New Gold's New Afton mine in south-central British Columbia. The mine has moved and milled as many as 22,000 tons of ore in a single day and routinely extracts 18,500 from Canada's only block cave.
Like other prolific block caves, New Afton enjoys enviable efficiency at extremely low operating costs. But the mine has also had to conquer one of the biggest block cave challenges: mud rush.
Mitigating mud rush hazards was the major motivation for implementing automated loading at New Afton. To ensure operator safety, New Afton had stopped manual mucking in high-risk drawpoints and implemented line-of-sight tele-remote loading, but those systems were unable to keep up with the growing production demand.
Driverless fleet
To overcome the production constraint, as well as further improve safety, the mine turned to Sandvik. Its equipment automation system AutoMine allows operators who would otherwise operate a single vehicle underground to work from a control room on the surface, and simultaneously monitor the movement of a fleet of driverless loaders or trucks underground. Sandvik loaders or trucks navigate between the load and discharge points under the control of a supervisory system, which manages traffic and monitors the machines.
Based on trials, New Afton calculated that an automated Sandvik LH410 underground loader had the potential to muck 75 more buckets each shift than the existing remote solution, a productivity increase of more than 55 percent.
"To transition from a line-of-sight solution to an automated solution, we calculated a 54-day payback period," says mine manager Peter Prochotsky. "If we continued using line-of-sight tele-remotes, that production loss was, essentially over 54 days, the value of a brand new Sandvik LH410. And we obviously made the choice pretty quickly that it was the right way to go."
New Afton's existing block cave extraction level layout wasn't optimized for automation so two dedicated colleagues worked to implement the system. "Sandvik provided excellent documentation that we followed 'to a T' and I picked things up along the way working with their engineers," says electrical instrumentation technician TJ Williams. "The overall process of installation was pretty straightforward. I like how simple the overall experience of mapping a drive is. You use the live scanners, you use your laptop, and there's not a lot involved."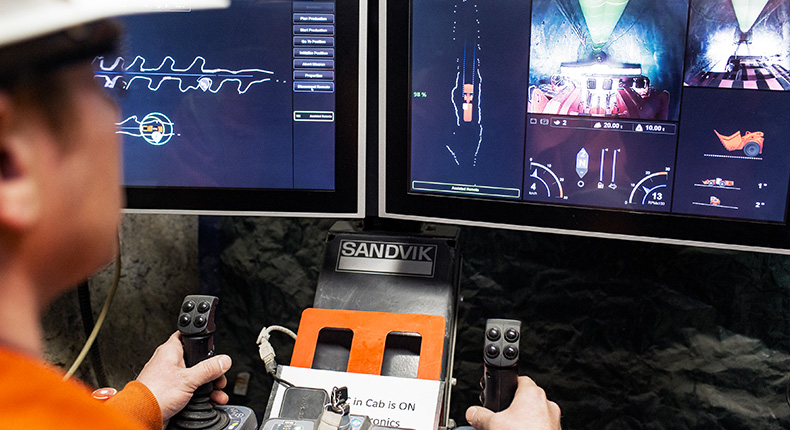 Bottom-line benefits
Within a week of commissioning in late 2017, the first of the mine's two automated Sandvik LH410s was already proving significantly more productive than the tele-remote solution. An average 100-meter tram from a drawpoint to an ore pass was 60 percent faster with the automated system than line-of-sight.
On top of recouping the investment cost of the automated loader in less than two months of operation, New Afton has experienced equipment benefits on its bottom line. The system steers the loader with pinpoint precision and its collision avoidance features help eliminate damage while enabling high speeds that accelerate overall cycle time. "We used to do about $10,000 of collision damage per loader per month, directly related to operating our line-of-sight loaders in a tight environment," Prochotsky says. "This cost has dropped to zero thanks to AutoMine."