Strategy and technology
Strategic focus areas
We continue our efforts to grow the aftermarket business and increase our share of parts and services in our installed base of equipment. Focusing on the aftermarket business will put us in a secure position long-term by driving profitability even in a market downturn. An efficient aftermarket offering is also the prime driver for new equipment sales to our customers. We also focus strategically on strengthening our position as the global leader for autonomous mining equipment.
Focus on core
We continued to review our product portfolio to ensure that we remain focused on our core capabilities across our business and that we have the best possible offering for our customers in the areas we have chosen to operate in. We are gradually exiting product groups that fall outside of our core capabilities and in 2018, we started a divestment process of Varel's oil and gas drill bits business. We also announced the discontinuation of a product line in our Rock Tools site in Matamoros, Mexico.
Technology leadership and innovation
In 2018, Sandvik Mining and Rock Technology further developed its offering in automation, digital solutions and electrification, designed to help customers increase profitability, reduce costs and improve safety. During the year, we continued to build on our digital ecosystems for the mining and rock excavation industry in collaboration with IBM and Cisco.
We signed a strategic framework agreement with Resolute Mining Limited to fully automate the company's underground Syama gold mine in Mali by the end of the year. The agreement includes AutoMine® and OptiMine® systems for analysis, process optimization and automation, including a full fleet of Sandvik TH663 trucks and Sandvik LH514E electrical loaders. Sandvik developed the automated production system in close collaboration with the customer.
In June, we inaugurated the Battery Electrification Innovation and Development Center for loaders and trucks in Turku, Finland. The facility has gathered a highly skilled workforce that will develop battery products and electric solutions to further drive innovation in the mining and rock excavation markets worldwide.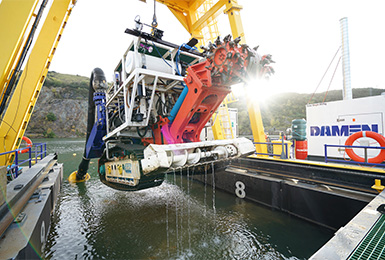 Sandvik participated in underwater mining project
Sandvik participated in the EU-funded underwater mining project ¡VAMOS! (Viable Alternative Mine Operating System) in 2018. The project aimed to find new ways to access unexploited European mineral resources with an estimated 100 billion euros worth hidden at a depth of 500 to 1,000 meters.
The objective was to build a life-size prototype robotic underwater mining machine, and to prove that the concept of mining in open-cast, water-filled and land-based mines is viable and economically feasible. Sandvik provided the cutting equipment and the frame for the underwater mining vehicle. "As Sandvik wants to keep a foot in the door for the future submerged mining market, we were keen to participate in ¡VAMOS! as it was a project that pushed for further innovation in the mining equipment sector," says Uwe Restner, product and commercial manager within Sandvik.
Overview
Product portfolio
Equipment for drilling, cutting, breaking, crushing, loading and hauling. Drilling consumables (rock tools), service, spare and wear parts.
Market characteristics
Mining
Consolidated customer base of some 200 global major and junior miners. Remote locations, decreasing ore-grades as well as safety requirements drive volume output and need for semi- to fully automated solutions. Significant aftermarket business.
Construction
Sandvik is active in the niche areas of rock excavation and comminution. Customer base is fragmented with more than 25,000 individual customers. Localized offering and local competition.
Demand drivers
Mining
GDP growth rate and resource intensive industry development
Metal and mineral prices
Production levels in existing mines and expansion projects (greenfield and brownfield)
Productivity improvements and new technology, for example automation and electrification
Demand in the areas of environment, health and safety
Construction
GDP growth/urbanization
Infrastructure investments and spending
Government stimulus programs
Aggregates production
Cement consumption
Competitive landscape/ Major competitors
Mining
Consolidated in certain segments, i.e. underground hard-rock mining: Epiroc, Metso Minerals, Caterpillar and Komatsu Mining.
Construction
Some global competitors present in several niches and many local players: Epiroc, Terex, Metso Minerals, Caterpillar and Furukawa.
Go-to-market model
Mining
Direct sales ~95 percent with worldwide service network
Construction
Due to a fragmented customer base, 50 percent of sales is via distributors. Global sales and service organization.
Growth strategy
Grow aftermarket business on the installed base. Climb the service ladder by data-driven productivity and advanced services. Mining automation, mid-market and local premium offering. Value-based selling.
Strategic risk management
Various forms of business environment risks with an impact on the mining and construction market in general, such as increased market competition with new technological developments and the emergence of new competitors, fluctua- tions in commodity prices and compliance-related risks.