Business in 2018
Stability, profitability, growth
2018 was a very good year for the business area, with improved profitability in all of our divisions. We continued to grow the business organically and through acquisitions. In July, Sandvik acquired Inrock, a privately owned supplier of rock drilling tools and services for Horizontal Directional Drilling (HDD), headquartered in Houston, USA. Inrock is a market leader in pilot hole bits, reamers, guidance systems, accessories and services for the premium maxi rig segment within HDD, and the acquisition enables us to expand our offering to this segment.
Efficiency and continuous improvements
Throughout the year we focused not only on increasing efficiency for our customers, but also on our internal efficiency. Cost control was top of mind and we continued to work on making our internal processes and structure more efficient, while working in a decentralized manner with decisions made closer to customers. We have been able to increase production and keep up with market demand.
2018 in figures
Revenues: 42,772 million SEK (36,495) with 15.4% organic growth
Operating profit: 7,380 million SEK (5,724)
Operating margin: 17.3% (15.7)
Return on capital employed: 29.4% (25.3)
Employees: 15,462 (15,1692))
Gender balance: Men 84%, Women 16%
President: Lars Engström
Lost time injury frequency rate (LTIFR): 1.0 (1.0)
Total recordable injury frequency rate (TRIFR): 4.0 (3.8)
Estimated market size: 305 billion SEK
1) Only mining-related revenues, i.e. 76 percent of total revenues.
2) Number of employees adjusted for items affecting comparability, due to internal reallocation.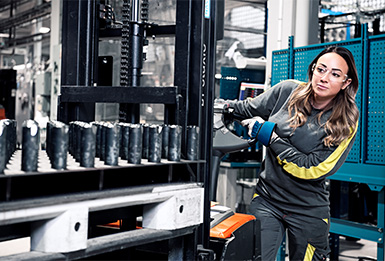 Sustainable business
Sandvik Mining and Rock Technology continues to invest in developing products that make our customers' workplaces healthier and safer, for example by reducing the use of diesel through the electrification of our equipment. We are also using low-emission engines in our truck fleets. This is helping to eliminate harmful exhaust fumes, especially in the confined spaces where many of our customers work.
Within our own operations, Sandvik Mining and Rock Technology is working to use materials and resources more efficiently and reduce carbon dioxide emissions. We are selecting more reusable types of packaging and lighter packaging for spare parts. Recycling is a priority and we are currently the only mining-related company that recycles both steel and cemented carbide. We continue to recycle consumables such as drill bits through global customer recycling programs. In 2018, our drill bits recycle program resulted in the recycling of about 40 percent of the rock drilling tools sold.
We have the ambition to reduce our transportation footprint by looking into delivery alternatives and business models for better efficiency and a reduction in air transportation.
The journey ahead
Sandvik Mining and Rock Technology is in a good position for expansion, through organic growth and mergers and acquisitions in selected areas, especially related to the expansion of our digital and electrification offering. Focus will continue on opportunities within the aftermarket where we have mapped our installed base and can now be more proactive in serving customers through predictive maintenance, ordering of spare parts and other data-related services. We will continue to improve the capital efficiency and fine-tune the organization to make it even more effective and agile.