Active in our communities
Sandvik operates in communities around the world and actively contributes to corporate social responsibility. Many of our efforts in 2018 went into improving the health, education and safety of our many neighbors.
As a global corporate citizen, we believe in the importance of making a contribution and having a positive influence wherever we operate. In addition to benefiting the local community, our efforts enhance Sandvik's reputation and increase loyalty towards the company.
We view our community projects as investments, for which we require contracts, clear target groups and objectives with measurable results. All activities must conform to our Code of Conduct, which means that we do not engage in any activities of a political or religious nature, or in projects that may be viewed as hazardous to health or the environment. All of our project partners must sign the Sandvik Supplier Code of Conduct and undergo the same screening process as our suppliers.
Four main focus areas
Sandvik is involved in a wide variety of projects around the world. Our platform for sponsorship and community involvement projects comprises four areas: Innovation – projects with a clear link to our daily work, products and solutions; Education and skills – projects that demonstrate our role as an employer and provide long-term employer branding value; Health and safety – health-related projects that show Sandvik's commitment to society; and Local enabler – projects creating joint value for our stakeholders and our employees.
Engineers without borders
Sandvik provides technical knowledge and international experience to Engineers Without Borders, Sweden. We are currently engaged in a project in Tanzania, cooperating with local partners to build and maintain small-scale wind power turbines and install solar panels in off-grid rural areas. The electricity that is generated goes to schools, hospitals and local community buildings.
Education for life
Sandvik Coromant has teamed up with UNICEF Sweden and sports association Brynäs IF on the initiative, "A Good Start", contributing to young people's access to a secure upbringing, education and technical development. In addition to contributing to the right of every child to have an education, the initiative will also focus on inspiring young people to discover and study technical subjects.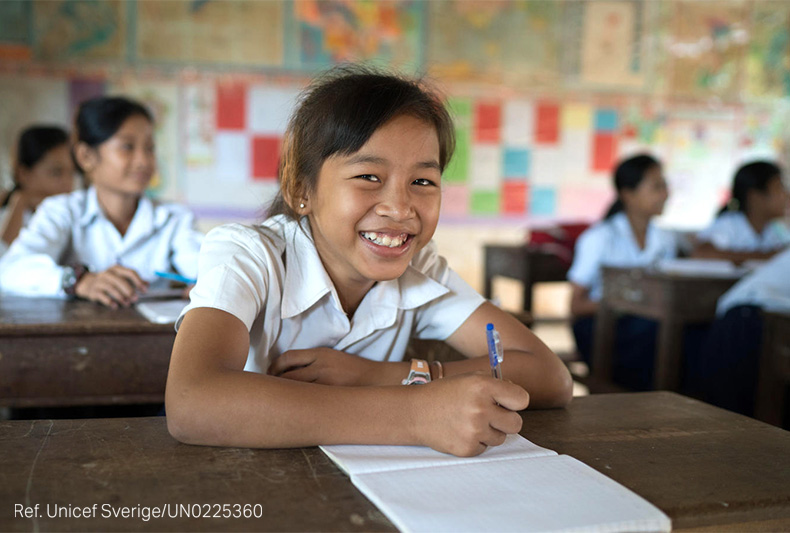 Sandvik drives several school projects in India, The Sandvik Every Child Counts campaign aims to boost primary school enrollment among underprivileged children and in turn help prevent child labor. The Sandvik School on Wheels program provides education in locations lacking a school. Sandvik staff and volunteers conduct classes in a bus for children in the most marginalized communities. The initiative puts extra emphasis on ensuring that more girls enroll in primary school, to boost their lower literacy rates. Since 2014, 4,359 children who were outside the school system have been enrolled in mainstream schools and 2,018 have continued their education in different schools in the Pune region.
In connection with the earthquakes in China in 2013, Sandvik and its Chinese employees donated about 500,000 RMB for rebuilding of a school. The Sandvik Hope School was opened in September 2018. It is located in the Yunnan province where 70 percent of the population is part of the Lahu minority group. In China, Sandvik also offers vocational programs in Sichuan and provides scholarships to several universities.
Preparing students for the real world is the aim of Sandvik's Metal Cutting Technology (MCT) e-learning program, started to help students gain theoretical and application knowledge related to turning and other skills. The free, interactive MCT tool is being used at colleges in the UK and the US, offering students a highly appreciated option to traditional classroom learning.
After a heavy rainstorm, Pakyi School No. 1 in rural Ghana was almost completely destroyed. After repeated attempts to obtain financial assistance school authorities and community leaders turned to Sandvik for help. We decided to finance the construction of a six-classroom building and construction began in 2017. The new school building, with a roof that incorporates recycled wood from pallets and containers used by Sandvik, was inaugurated in early 2018.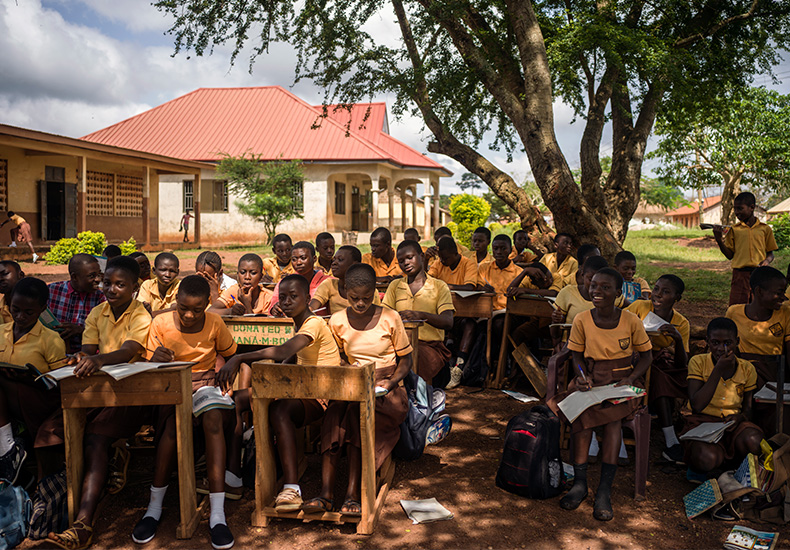 Promoting health and safety
Mining Emergency Response Competition is an annual initiative to exchange information related to accident prevention. Sandvik contributes by providing mining equipment and employee volunteers at the annual event. Remote Australian mine sites are often long distances from professional emergency services and the crews need to feel confident handling any kind of crisis.
Since 2005, Sandvik has been working with programs to combat HIV and AIDS and other diseases among employees, their families and customers in Sub-Saharan Africa. The programs are part of a project called SHWAP, (Swedish Workplace HIV and AIDS Programme), an initiative from the International Council of Swedish Industry (NIR) and the Swedish Industrial and Metalworkers Union (IF Metall).
Sandvik is one of the main sponsors of Team Hasselborg, winner of gold medals in curling at the 2018 Winter Olympics and European Championships and a silver medal at the World Championships. Curling, a sport where materials knowledge and technical skills are essential, has a clear link to Sandvik's business, and we also want to encourage young womens' interest in technical education and engaged leadership.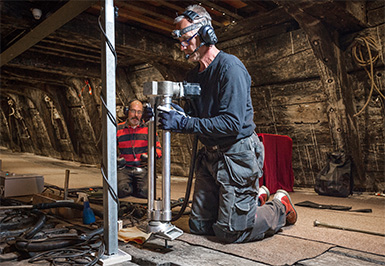 The last bolt replaced on the Vasa ship
Since 2011, Sandvik has helped replace more than 4,000 rusty bolts on the 17th century Vasa warship at the Vasa museum in Sweden. The old bolts were replaced with specially constructed high alloy stainless bolts from Sandvik that will last for at least 150 years. The job was completed in 2018.