Environmental footprint
At Sandvik we see our environmental initiatives as both a fundamental responsibility and a business opportunity. We provide customers with products and services that boost their environmental performance and efficiency. Within our operations we work continuously to minimize our own environmental impact.
Sandvik is committed to meeting three of the environmentally related United Nations Sustainable Development Goals: affordable and clean energy; responsible consumption and production; and climate action (see United Nations Sustainable Development Goals).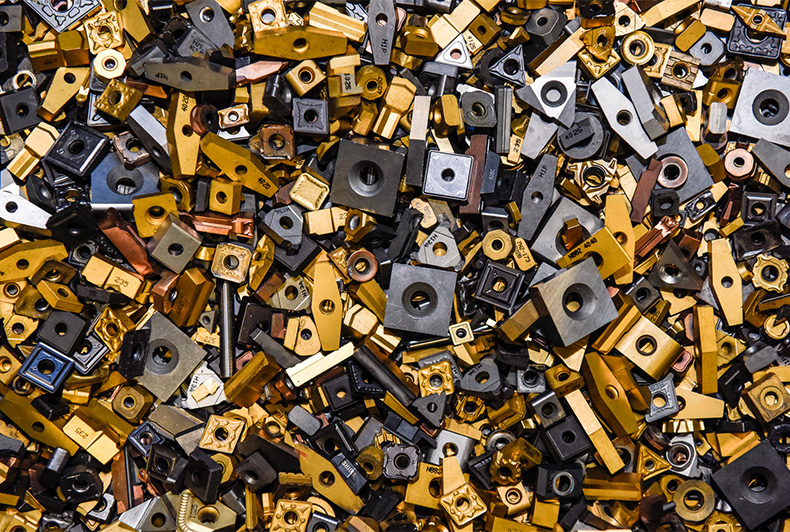 Reducing energy usage and emissions
Through the implementation of a new reporting process, Sandvik is working to ensure that every individual site in the company has an action plan to increase energy efficiency and reduce carbon dioxide emissions (CO2). Sandvik had about 72 environmental action plans underway in 2018. Heat exchange systems, improved insulation in buildings, LED lighting, and solar rooftop panels are some examples of initiatives.
For 2018, Sandvik had set a target to reduce its energy usage by 1.5 percent and to reduce carbon emissions by 2.2 percent. The energy usage was reduced by 1.7 percent and carbon emissions were reduced by 0.9 percent. The carbon target was not met, due to increased production. However, the carbon emission intensity, defined as emissions in relation to revenues, improved by 10 percent.
Seco has a Green Fund where money is diverted from carbon credits to fund various initiatives to decrease energy and CO2 emissions at its sites. In 2018, the Green Fund paid for new energy-saving windows in La Tour du Pin, France, LED lighting in Lottum, Netherlands, the leasing of hybrid cars in Fagersta, Sweden and a voltage optimizer for the site in Alcester, UK.
Our main production sites in Europe have been buying energy from renewable energy sources since 2013, resulting in a reduction of annual emissions by approximately 100,000 tons.
Sandvik's site in Svedala, Sweden is being connected to a new district heating system that will eventually replace all of the site's natural gas furnaces, contributing to CO2 reductions.
Our Combined Heat and Power plant in Tübingen, Germany is recovering excess heat from production processes to produce energy. Since 2016, 420 kilowatts of thermic energy and 214 kilowatts of electricity have been produced.
In Katowice, Poland, Sandvik has installed a new central treatment for machining emulsion. The installation will lower the energy consumption, and the energy from the heated emulsion will be used for hot water production and heating of the site. Energy savings are estimated at 1,500 MWh annually.
Use, reuse and recycle
Circularity is a key aspect for Sandvik and we are reusing and recycling to offset the use of raw materials. More than 30 Sandvik locations report a 100 percent waste recovery rate. Sandvik recycles both steel and cemented carbide. About 50 percent of the cemented carbide that is used in our production comes from recycled material. The wear parts for crushing manufactured by Sandvik Mining and Rock Technology are made from more than 90 percent recycled steel.
The Sandvik Machining Solutions business area has buyback programs for used products from customers. Recycling of metals is done in our own refining plants. Sandvik Mining and Rock Technology collects used products and discarded drilling consumables containing cemented carbide at customer locations to make it easier for them to recycle.
In our Chiplun, India site, food waste from the canteen is used for biogas production. The gas is led back to the canteen and used for cooking food.
Waste Management
Sandvik's sites are working to reduce the consumption of raw materials and the amount of waste going to landfill. Our target is to increase the share of recovered waste to 20 percent and we are currently at 18 percent. Total waste increased by 11 percent, of which 10 percentage points were caused by construction work at the Sandviken site.
Each year, about 30 tons of plastic waste, including large bags and plastic packaging, is generated at our Wolfram Bergbau und Hütten refining facility in Austria. This plastic waste is being processed in a sorting plant in Austria and resold to plastic producers, serving as raw material for new plastic products.
Water
About 90 percent of our manufacturing activities take place in areas where there is an abundance of water. Nonetheless, water is circulated, particularly cooling water, to reduce the consumption of fresh water at several of our production units.
Cooling systems that recirculate water have been installed at our refining plant Saint Martin in Austria, where previously fresh water from a river was used for cooling. In 2018, the site used 1.3 million cubic meters of cooling water which represents one third of Sandvik's total surface water usage.
We have taken further steps where water is a scarce resource. At our Pune, India site we have installed rainwater collection systems to reduce the use of fresh water. At our Jet Park site in South Africa we have an on-site water recycling plant to lower water consumption. Our global assembly center in Jiading, China has replaced its current shower system with a solar water heater that will result in significant reductions in CO2 emissions and energy costs, while increasing the facility's showering capacity.
Sandvik's emissions to water consist mainly of nitrogen compounds, oxygen-consuming substances and metals. Emissions of phosphorous declined by 95 percent, all explained by the divestment of a company that contributed to 97 percent of last years' emissions. All wastewater from production processes is treated before being released, to ensure that all discharges are below the acceptable limit.
Energy consumption 2018
CO2 emissions 2014–2018, tons
Sandvik Materials Technology has the biggest environmental impact of the three business areas due to its stainless steel production in Sandviken, Sweden. Production at Sandvik Machining Solutions is highly automated, while Sandvik Mining and Rock Technology's production is mainly based on assembly, resulting in lower CO2 emissions.