Strategy and technology
Strategic focus areas
In the short-term, we aim to reach a 10 percent EBIT (Earnings Before Interest and Tax) margin by 2019. We are in line with that target with many opportunities to grow and further improve the profitability, focusing on operational and commercial excellence. In the long term, we aim to be a leading materials technology innovator, providing customers with solutions that make them safer, more sustainable, energy efficient and productive.
Focus on core
Today, Sandvik Materials Technology's portfolio is more focused than in the past, due to restructuring and divestments. In the first quarter, we completed the divestment of our welding wire business to industrial company ESAB, including the global sales organization and production units in Sandviken, Sweden and Scranton, US. In May, we announced a divestment of our 50 percent stake in the Fagersta Stainless wire rod mill, in a transaction that is expected to close by the end of 2019. In the third quarter, we divested our stainless wire business to the German family-owned Zapp Group. The deal included a production unit in Sandviken, Sweden, and a global sales organization along with selected trademarks and patents. In the fourth quarter, we signed an agreement to divest our electric components business to power resistor manufacturer Ohmite.
We are building on our core capabilities and in August we announced the acquisition of Custom Electric Manufacturing, a leading manufacturer of industrial heating equipment and replacement heating elements in North America. This acquisition will strengthen Sandvik's leading position in industrial heating systems.
Technology leadership and innovation
Sandvik Materials Technology is a leading expert in special alloys and advanced stainless steels. In 2018 we received an order from CERN, the European organization for particle physics research, to develop a new advanced stainless steel for the world's largest and most powerful particle collider, the Large Hadron Collider (see case below). Sandvik Materials Technology is also supplying components to the prestigious NASA WFIRST project for a space-based telescope that will help astronomers improve their understanding of dark energy. We are growing in the medical segment, which is an area where we see excellent potential for our medical wire Exera™. Exera is used for many applications, including ear implants, spine stimulation, heart solutions, and glucose and thermal measurements.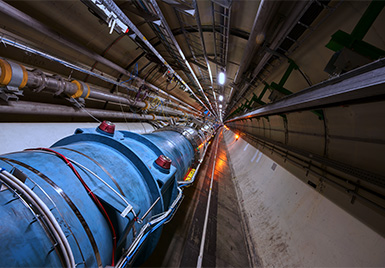 Sandvik in prestigious project with CERN
The Large Hadron Collider (LHC) is the world's largest and most powerful particle accelerator. It is located at CERN, the European Organization for Nuclear Research, headquartered outside Geneva in Switzerland. It consists of a 27-kilometer ring of superconducting magnets with a number of accelerating structures to boost the energy of the particles along the way. Sandvik has received an order in an LHC upgrade project where our advanced stainless steel will be used to keep the particle beam in position in the accelerator. The project is CERN's most extensive during the coming decade, entailing an investment close to 1 billion EUR. CERN is regarded as the world's biggest laboratory for particle physics research where one of the aims is to understand how the universe was once formed and which fundamental laws rule our world.
Overview
Product portfolio
Tubular products, bars, billets, strip, rock drill steel, heating systems, medical wire and metal powder.
Market characteristics
Selected niches in demanding industries where material requirements, as well as product quality and reliability, are extremely high. High entry barriers.
Demand drivers
Energy demand
Industrial production
Environmental demands and legislation e.g. reduced emissions and energy consumption
Materials evolution i.e. advanced material requirements
Increased demand for safety, reliability and more sustainable materials
Competitive landscape/ Major competitors
Nippon Steel and Sumitomo Metal (tube), Tubacex (tube), Jiuli (tube)
VoestAlpine (strip), Aperam (heating elements and systems), smaller niche players.
Go-to-market model
Direct sales ~80 percent.
Growth strategy
Increased focus on products and solutions improving energy efficiency and reducing emissions. Continued material evolution through focused R&D efforts and technologies based on, for example, powder metallurgy.
Strategic risk management
Fluctuating oil and gas prices. Increased competition of high-tech material from China. Local protectionism in the steel industry.