Customers and new products
Sandvik Maching Solutions has more than 100,000 customers around the world. They are mainly in the engineering segment (46 percent) followed by 27 percent in the automotive segment. We also have customers in the aerospace (14 percent) and energy sectors (9 percent). Four percent of our customers are in other industries, such as the mining industry.
New products and innovations
Xtra•Tec® XT
The latest generation of Walter milling tools offers better performance and greater process reliability. Eight cutting edges per indexable insert make machining precise and reliable – even over a long period of time. This results in a reduction in the cost of cutting materials and more efficient use of resources.
Force M™
Force M™ is an assortment of drills providing a high level of productivity when drilling stainless steels across a diverse variety of machines and conditions. This makes them ideal for general engineering and sub-contract environments. All drills feature a unique continuously thinned web flute construction combined with a modified four-facet split point geometry. This improves chip evacuation and provides a secure drilling process, delivering enhanced tool life, performance and superior hole quality.

Double Quattromill™ 22
Seco's latest face milling cutter, Double Quattromill™ 22, significantly boosts metal removal rates and allows workshops to push cutting tools to their full milling potentials. The new cutter, for both roughing and semi-finishing, features inserts with eight cutting edges that cost-effectively increase depths-of-cut for high output.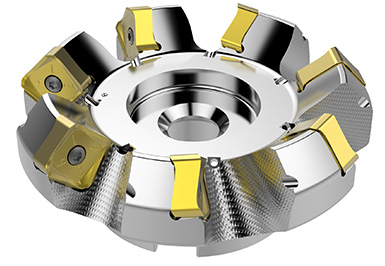 Silent Tools™ Plus
Sandvik Coromant's sensor-equipped Silent Tools™ Plus damped adapters increase process security in internal turning with long overhangs. The solution gives customers access to information about what is happening inside the component, making process improvements possible.