Strategy and technology
Strategic focus areas
During the year, we continued to work according to the business area's key priorities, such as growing in the core machining area and expanding into digital and additive manufacturing.
Focus on core
We continue to grow in the core machining area but are also expanding into design, planning and preparation as well as entering into verification and evaluation to cover the complete manufacturing value chain. This is being achieved through organic growth, collaborations and acquisitions.
In July we acquired Metrologic Group, a market-leading metrology software company. This acquisition is an important step on our journey to expand into the verification and evaluation market with a quality assurance process. By combining Metrologic's understanding of measurement technology with Sandvik's machining expertise, we can expand our offering to increase customer productivity.
Technology leadership and innovation
To further cement our leading position, we continue to develop new cutting tools and materials for high productivity, reliability and demanding machining applications. Newly developed products account for more than 30 percent of sales. We are actively developing our intellectual property to maintain the strongest patent portfolio in our business. Sandvik is also investing in additive manufacturing and digital and software development. Our Applied Manufacturing Technologies division has expertise in digital enablement, machine learning, artificial intelligence and digital user experience design. It includes the Metrologic Group and Tool Data Management (TDM) Systems, which focuses on process optimization through optimal tool planning and provisioning.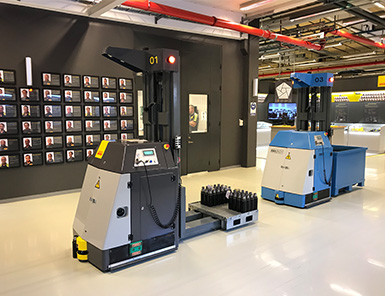 Sandvik recognized by the World Economic Forum
The World Economic Forum (WEF) has recognized the Sandvik Coromant production unit in Gimo, Sweden as an advanced Industry 4.0 facility. The plant was added to a network of "Manufacturing Lighthouses", state-of-the-art facilities that serve as world leaders in how to successfully adopt and integrate cutting-edge technologies, including automation, Internet of Things, Artificial Intelligence and cloud computing. WEF points out how Sandvik has created a digital thread throughout its production processes that has significantly raised productivity.
The Gimo plant is the world's largest site for inserts and tools production and part of Sandvik Coromant's "green factory" vision, aiming towards reduced carbon emissions, improved energy efficiency and extensive recycling programs.
Overview
Product portfolio
Multi-brand strategy: Sandvik Coromant, Seco, Walter and Dormer Pramet. Metal-cutting tools: majority of revenues are derived through inserts and round tools (consumables). Smaller part from tool holders.
Market characteristics
High barriers of entry due to capital intensive business model and intellectual property throughout the value chain (high degree of vertical integration). Cutting tools represent a small share of total manufacturing cost for the customers, however they are significant for the productivity. Service levels and product solutions are the main differentiators for the premium offering. Lower service degree for mid-market which is more price sensitive.
Demand drivers
Global industrial production
Primary metals consumption
Materials evolution: aluminum, titanium, composites
New technologies: additive manufacturing, near-net shaping, 5-axis machining
Competitive landscape/ Major competitors
Consolidated in the premium segment: IMC group (Iscar brand), Kennametal (Kennametal brand)
Fragmented in mid-market including global premium players present with their mid-market brands:
Mitsubishi, IMC group (Taegutec brand), Kennametal (Widia brand), Zhuzhou
Go-to-market model
Direct sales ~55-60 percent. Distribution sales are predominant in North America whereas direct sales are predominant in Europe. In Asia, mainly distribution sales with limited service offering in the mid-market segment and direct sales, with high service level, in the premium segment.
Growth strategy
Expansion through organic growth, innovation and niche acquisitions in the core (round tools). Complementary expansion into pre-machining, post-machining and additive manufacturing.
Strategic risk management
Various forms of business environment risks with an impact on the metal cutting market in general, mainly changes in customers behavior, acquisition-related risks, structural changes in our industry, information security risks and compliance-related risks.