Relevant GRI Indicators
Letter from the CEO
Strong earnings in a challenging world
Despite a very challenging operating environment, Sandvik delivered a strong result in 2022 and we took important steps in the execution of our strategy. We also underwent a historical change with the listing of Sandvik Materials Technology as Alleima.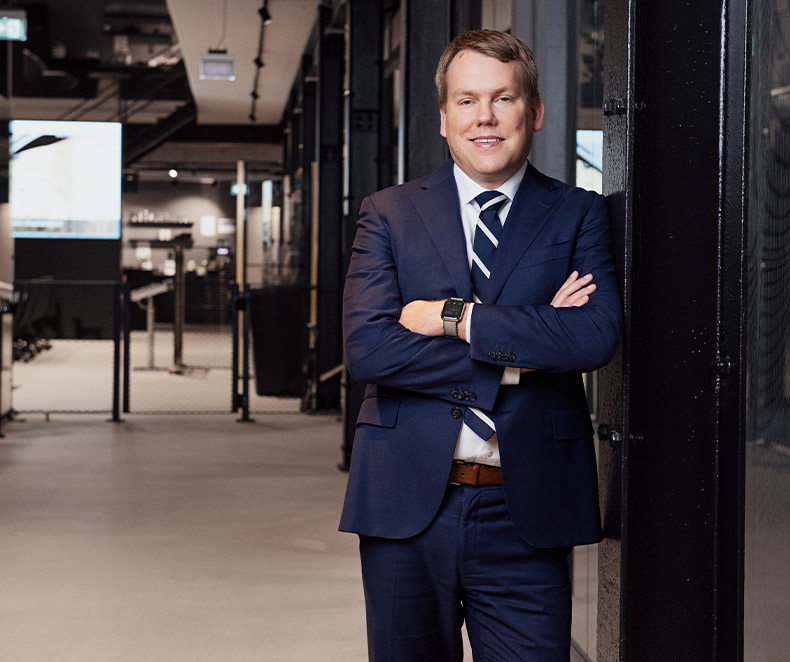 We have a clear strategy and growth focus where the solutions we offer contribute to making our customers more productive and more sustainable. During the year, we presented new long-term financial targets where we raised our growth ambition to 7 percent on average over a business cycle. The profitability target was set as a target range of 20–22 percent for the adjusted EBITA margin. We also introduced a new target of a financial net debt/EBITDA below 1.5. The dividend target of 50 percent of earnings per share remained unchanged. Our adjusted operating profit (EBITA) rose to SEK 22.5 billion (17.8) in 2022, an increase of 26 percent.
Russia's war in Ukraine continues to lead to unimaginable humanitarian consequences and has prompted difficult but necessary decisions for us at Sandvik. When the war broke out in February, we paused our operations in Russia, making the safety of our employees our top priority. In June, we communicated our wind down and departure from the Russian market.
In August, Sandvik Materials Technology was listed on Nasdaq Stockholm as Alleima, ending a complex but successful project. I am convinced that this is a positive step for both Alleima and Sandvik, and something that will create long-term value for both companies.
We have identified a number of focus areas for Sandvik where we can help create additional value for our customers, and where we can take a leading position and provide more comprehensive solutions for the needs of our customer value chain.
Strong organic growth
We continue to see strong momentum for battery-electric equipment and automation solutions on the mining side. We received several significant orders in these areas during the year, including our largest order for battery-electric vehicles to date. These are areas with great future potential, where we will continue to invest and lead the development.
"We received our largest order for battery-electric vehicles to date."
Our investments in research and development (R&D) are a basic prerequisite for a strong Sandvik. Our R&D investments amounted to SEK 4.5 billion in 2022, corresponding to 4 percent of the Group's revenue. Our strong organic growth is proof of the strength of our innovative product portfolio. Total growth in order intake was 27 percent and, at fixed exchange rates, 17 percent, of which organic growth was 6 percent. In recent years, we have also focused on expanding sales of parts, services and consumables as it strengthens our position with customers and at the same time increases our resilience.
Value-creating acquisitions
We made several acquisitions that support our strategy. We completed the acquisition of Deswik – the world-leading company in mine planning software – and we strengthened our position in the mining industry with acquisitions in advanced optimization software and battery diagnostics. We acquired the mining business from Schenck Process Group (SP Mining), a transformative deal for the Sandvik Rock Processing Solutions business area that creates, among other things, significant growth potential for the parts, services and consumables business. We also made a number of acquisitions in strategic areas within machining, such as round tools, and to strengthen our capacity in lightweight materials, an area driven by the electrification in the automotive industry. With the acquisitions we made in 2021 in software connected to component manufacturing, we now have important building blocks in place to gradually realize our goal of helping our customers automate the entire production cycle – from design and planning to manufacturing and verification.
Agile through cycle
In an unpredictable external environment, we need to have updated contingency plans in place to be ready to respond quickly to any scenario. In 2022, we once again demonstrated the resilience, flexibility and speed of our decentralized structure as we navigated high cost inflation, continued component shortages and disruptions in supply chains, shipping and logistics. Overall, we handled these challenges very well, and we compensated for a large part of the cost inflation, implementing necessary price increases. It shows we are valued by our customers. The adjusted EBITA margin was 20.0 (20.8) percent in 2022.
We have a continuous focus on costs and are constantly striving to make Sandvik more competitive, more efficient and less complex. As the savings from our last structural program in 2020 have been realized in full, we announced in May new structural measures to support our strategic direction. This program is expected to generate annual savings of approximately SEK 600 million, with the full effect in 2025. The restructuring costs will amount to SEK 1.7 billion (SEK 670 million in 2022 and the remainder in 2023).
Sustainability
Sustainability is a major business opportunity for Sandvik. We can make a big difference by developing more efficient and safer solutions that help reduce our customers' use of resources and increase their productivity. Our electrification and automation solutions for the mining industry are concrete examples of how we are driving the sustainability shift. Our solutions for smart and automated component manufacturing processes also have great potential.
In November, we submitted targets for validation to the Science Based Targets initiative. The new targets include committing to net zero greenhouse gas emissions by 2050. For Scope 1 and Scope 2, our goal is to halve emissions by 2030 and reach net zero by 2040.
Unfortunately, the total recordable injury frequency rate increased during the year. We have a zero vision for accidents in the workplace and we have intensified our focus on this area to continue our long-term positive trend. Sandvik continues to support the principles of the United Nations Global Compact and contributes to the UN Sustainable Development Goals.
In 2022, we continued to build a stronger Sandvik and it is gratifying to see the progress we made. We look forward with confidence to the opportunities ahead of us.
I would like to thank our employees, whose outstanding efforts during the year have been essential for our continued strong development. I would also like to extend a big thank you to our shareholders and customers for your continued trust.
Stefan Widing
President and CEO