Strong delivery on the shift to growth
2021 was a successful and eventful year for Sandvik, when we delivered on our strategy and made important progress in the shift to growth. It was a year with high acquisition activity and significant new additions that are further strengthening our position, both geographically and technologically in terms of exposure to various customer segments.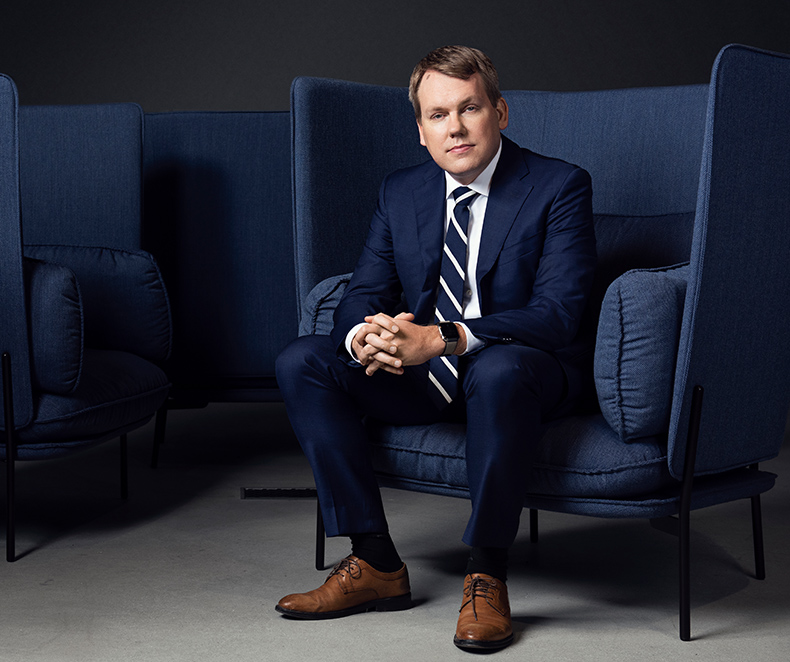 We have a strong focus on growth. We have identified a number of key areas in our customers' value chains where we want to establish leading positions, and where we help our customers further enhance their productivity. Key strategic growth areas in which we have significantly advanced our positions include CAM software, industrial metrology, round tools, ground support and mine planning.
With the acquisition of CNC Software – the creators of Mastercam – and the acquisitions of Cambrio and ICAM, we now have a leading global position in CAM, giving us a digital presence with access to hundreds of thousands of workshop customers and a fantastic opportunity to further improve their productivity and automate their manufacturing processes. Round tools is a key area for Sandvik expansion. During the year, we acquired GWS Tool Group in the US and Chuzhou Yongpu in China, which is in line with our ambition to expand our presence in North America and Asia. In industrial metrology, we took another step forward through the acquisitions of DWFritz Automation and Dimensional Control Systems. We completed the acquisition of ground support and rock reinforcement product supplier DSI Underground giving us a world-leading position in an area of utmost importance for our mining customers. We also signed an agreement to acquire Deswik, the leading supplier of mine planning software, that will broaden our digital offering. As a result of these successful acquisition activities, the Sandvik Manufacturing Solutions business area segment raised its growth target for 2025 from SEK 4 billion to SEK 6 billion.
Value-creating innovations
Value-creating innovations We also posted strong organic growth, which shows the strength of our innovative product portfolio. We successfully launched a number of new products, such as the battery-electric truck Sandvik® TH550B which is completely built around the battery, the digitally connected Sandvik® QI353 cone crusher engineered for increased efficiency and lower costs, and we developed a new way to laser tag inserts with scannable Data Matrix codes for full traceability.
"The strong organic growth shows the strength of our innovative product portfolio."
Order intake rose 30 percent organically and revenues increased by 15 percent compared with 2020. Overall growth for Sandvik totaled 18 percent. This is clear proof of a well-executed year in our growth strategy with strong growth both organically and through acquisitions.
A more flexible company
We continued to show how flexibility and agility in the Sandvik organization have improved considerably. During 2021, which was a year of recovery with high demand, we successfully managed the challenges that arose in the supply chain in the form of component shortages and a more strained situation in, for example, freight and logistics. We delivered 90 percent of the cost-cutting programs announced in 2020, resulting in annualized run-rate savings of SEK 1.1 billion. The remaining SEK 0.1 billion will be realized in 2022. We have a continuous cost focus, always striving for more efficient ways of working. The adjusted EBITA margin rose to 19.1 percent for the full-year compared with 17.2 percent in 2020.
Flexibility is more important than ever in a turbulent business environment. The war in Ukraine causes a lot of uncertainty and human suffering and we are continuously following the development. Many of the countries in which we operate were impacted by the pandemic throughout most of 2021, although the trend has moved in the right direction as vaccination programs have been rolled out and we have been able to start traveling again. We took major steps forward in virtual collaborations during the pandemic, which will make us even better and more efficient in how we interact with customers and work in a more flexible manner.
In October, the Board made a decision to continue the process for a distribution of Sandvik Materials Technology to our shareholders and to list the company on Nasdaq Stockholm. I am convinced this is very positive for both Sandvik and Sandvik Materials Technology, which will have even better opportunities and conditions to grow as two separate, and even more focused, world-leading companies. A listing is still subject to a formal Board proposal to a General Meeting and shareholder approval, and the goal is to list the company in the second or third quarter of 2022.
Sustainability
Sustainability represents a major business opportunity for Sandvik. Based on our strong research and development we develop more efficient, safer and more environmentally sound solutions. We made progress in several of our 2030 sustainability targets during the year. Greenhouse gas emissions decreased 16.4 percent, despite higher levels of activity.
In December, we joined the Science Based Targets initiative to have our ambitious climate targets validated by a third party. In addition, this means we have committed to reaching net zero greenhouse gas emissions by 2050 at the latest. This is an important step for Sandvik, and emphasizes our commitment to sustainable business.
The health and safety of our employees is always our highest priority. Unfortunately, the injury frequency rate rose. We have a zero accident vision and intensified our focus on this area during the year.
Sandvik will continue to support the principles of the UN Global Compact and contribute to the achievement of the United Nations Sustainable Development Goals.
During the year, we launched our new purpose, "We make the shift – advancing the world through engineering." It summarizes how our innovative solutions are creating value for our customers and employees, as well as for society and the planet, which builds shareholder value. The purpose is a strong upholder of culture that helps to build and clarify the Group's future direction and strategy, while generating employee engagement.
We updated our strategy with six strategic objectives with well-defined and measurable targets for 2025. The underlying idea behind the strategy is to facilitate important shifts taking place around the world, such as digitalization and sustainability.
Finally, I would like to thank our employees whose fantastic work and commitment during a very intense year have laid the foundation for our success. I would also like to thank our shareholders and customers for their continued trust.
Stefan Widing
President and CEO