Innovations 2020
Concept vehicle with AutoMine® mining automation solution
The concept vehicle is based on the latest technologies and equipped with completely new sensing capabilities and artificial intelligence to enhance mining operations. It is the world's first fully autonomous underground mining machine, designed ground-up and built specifically for automation.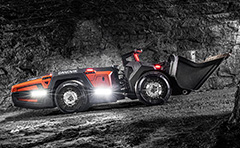 Sandvik LH518B
The electric-battery loader has been designed from the ground-up to take advantage of all the benefits of electric drive technology. It produces no underground exhaust emissions and significantly less heat than traditional diesel engines, supporting mining customers to reach sustainability targets. Battery-powered equipment reduces ventilation requirements deep underground, having a positive impact on the bottom line.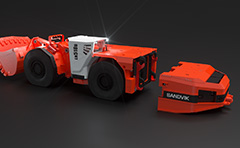 Top Hammer XL
Top Hammer XL is a new groundbreaking drilling system for large hole sizes, 140 to 178 mm top hammer drilling in surface mining applications. The system includes a Pantera® DP1600i drill rig, a RD1840C rock drill and a LT90 rock tool – all designed to work seamlessly together for optimum performance. Field tests show a 50 percent reduction in fuel consumption, a 25 percent reduction in total drilling costs and a 15 percent increase in productivity compared to the down-the-hole (DTH) drilling method.