Sandvik drill helps maintain Fujikin's flow
Productivity rose by an incredible 2,000 percent when Japanese valve maker Fujikin began using a solid carbide drill from Sandvik Coromant, CoroDrill® 860-PM.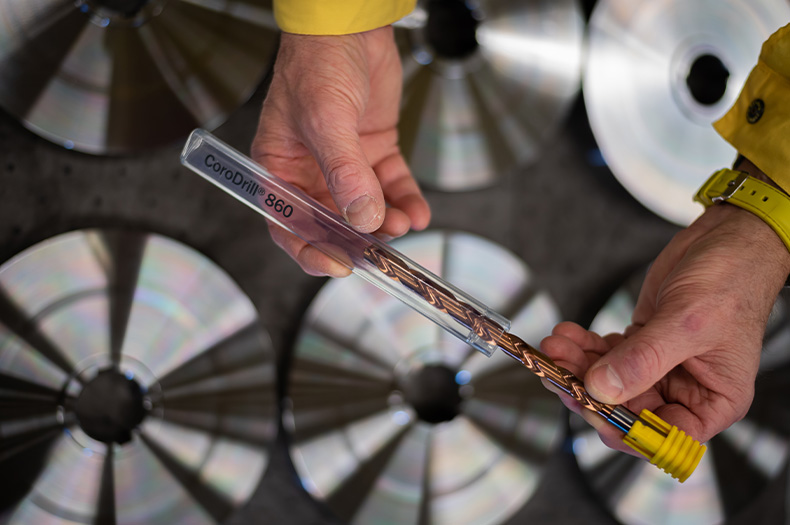 High precision and quality are absolutely essential for Japanese company Fujikin, whose first patented product was the Needle Valve. It was launched for the valve industry in 1953 to help gas flow more precisely. Since then, the valve specialist and manufacturer of ultra-precision flow control systems has been developing equipment for everything from semiconductors to space rockets.
The company's valves and other products keep ultra high-pressure hydrogen and many other fluids flowing safely and efficiently. Today, Fujikin has earned a 65 percent market share in Japan and has a 40 percent worldwide share for its valve equipment used in semiconductor production.
Customer visit
In 2018, Fujikin visited Sandvik in Semine, Japan where the production unit manufactures premium indexable inserts, cutters and holders.
"The customer gained a good understanding of how the high productivity products are made in an effective way and by the following year, started using CoroDrill 860-PM to improve the pilot hole machining for the tapping of semiconductor equipment components," says Koji Itoh, Manager, Solid Round Tool at Sandvik Coromant in Japan.
The components are made of austenitic stainless steel with low carbon. The solid carbide drill is designed to maximize productivity through high metal-cutting efficiency. Its excellent chip evacuation capability enables machining at high penetration rates.
"The shape of the drill geometry is very unique," says Takeyuki Suzuki, Chief of Tsukuba Advanced Technology Center Component Machining Section, Fujikin. "We chose it for its good performance, the quality of substrate and coating, as well as for its productivity capabilities, stability and the fact that Sandvik Coromant does reconditioning," adding that the latter provides further reliability.
Increased productivity
A reconditioning center was opened in Japan in 2019. It is one of a number of specialized centers located around the world that recondition Sandvik Coromant solid carbide tools, reproducing the geometry and coating of the original tool. After a time, when it is no longer economically viable or possible to recondition a tool, it can be recycled through Sandvik's recycling program, which pays customers market prices for their solid carbide.
Since putting the Sandvik drill into action, Fujikin's productivity rose by 2,000 percent and tool life was up more than 65 percent compared to the previous supplier's tools.